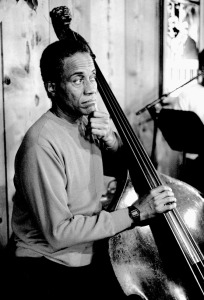 There is a new street on the Eastside of Madison to commemorate the world-renowned bassist, Richard Davis. The street bridges Webb Avenue and Darbo Drive, which neighbor the Salvation Army.
Richard Davis was born on April 15, 1930, in Chicago, Illinois. His love for music began at an early age, where he preformed in his family's vocal trio. In high school, he became a member of the "Chicago Youth Symphony Orchestra." During this period, Davis was also studying double bass with his music theory teacher and the band director. After graduating high school, he attended Vandercook College. Davis' love of music persisted throughout his life, leading to his proclamation of "Best Bassist" from 1967 to 1974. In 2013, he was named Jazz Master by the National Endowment of the Arts, which is the nation's highest honor in Jazz.
In 2016, Davis retired from his position as a UW-Madison professor. He taught hundreds of students about the history of black music and Jazz. He was very passionate during his career about expanding the diversity of the campus, while simultaneously being a big advocate for minority students. Davis said that he felt honored about the new street, pointing out the diversity of the Darbo-Washington neighborhood. He hopes that his street will serves as an inspiration to young people, motivating them to chase their dreams.
Davis, beginning from the age of three, was subject to racism, which continued throughout this professional career as a black musician. He longs for the next generation to be able to overcome the racial barriers that they encounter, and persevere, in order to achieve their goals.
The street opened Saturday, July 20th, of this year. Wilder Deitz, a former student of Davis, arranged the ribbon-cutting ceremony. During the celebration, former students, including Deitz, preformed: bass, piano, saxophone, and voice. Then people who were influenced by Davis' teachings were given the opportunity to voice their appreciation. One of those people was, Mayor Satya-Rhodes Conway. Although Davis wasn't able to be there in person, since his mobility is now limited, he was able to watch a FaceTime video stream of the commemoration.
Davis has helped shape the lives and perspectives of many people. This street will allow the children of this area to know that they can also make something of themselves. Even though being a person of color (like many of them are) means that they will encounter difficulty, he hopes that their drive carries them forward. Then maybe someday, they too can be as inspirational as Richard Davis.
[Sources: Madison.com; Wisconsin State Journal]