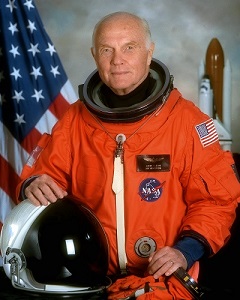 On December 8, 2016, America bade farewell to an American legend. John Glenn, senator, lifelong pilot, decorated war veteran, and one of NASA's first astronauts passed away in his home state of Ohio.
John Glenn was born on July 18, 1921 in Cambridge, Ohio to John and Clara Glenn. During World War II and the Korean War, Glenn flew dozens of combat missions. He also set a transcontinental flight record, when he flew a jet from Los Angeles to New York in three hours and 23 minutes. In 1957, Glenn volunteered for research at the space agency that preceded NASA.
One of seven men chosen from 508 candidates, Glenn was in NASA's first class of astronauts. On February 20, 1962, Glenn entered the Mercury capsule, the first spacecraft of America's first human spaceflight program for the Friendship 7 mission.
The mission launched from Cape Canaveral, Florida. Glenn entered orbit and circled the Earth three times in four hours and 46 minutes. NASA expected to lose at least one astronaut in the Mercury missions. While there was a hiccup that could've been deadly when the heat shield came loose, Glenn successfully maneuvered the craft in an emergency landing. He landed the craft manually in the Caribbean Sea.
Glenn would return to space once more, but not for another 36 years. He left the astronaut class two years after the historic flight and worked for a soft-drink company in Atlanta. His close friend, President John F. Kennedy encouraged him to run for office. In 1970, Glenn launched his campaign for a Senate seat in Ohio, but lost. He ran again and won in 1974 and stayed in office until 1999.
Glenn returned to space in the 1990s after pitching an idea to NASA about studying the effects of space flight on geriatric, or elderly, bodies. Being the test subject, 77-year-old Glenn became the oldest person to fly in space. Glenn provided the first data on the effect of weightlessness on the human body. During his mission, he reported his blood pressure, tested his vision, and checked for nausea. He later wrote that, "I found weightless to be extremely pleasant."
Being one of the best pilots in the nation, and one of the first astronauts to orbit the Earth, Glenn showed the world what great feats American science could accomplish.
[Source: The Atlantic]