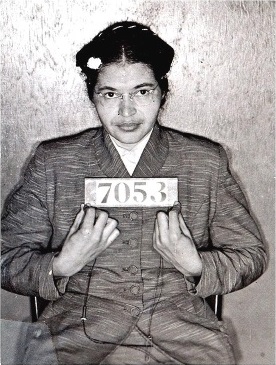 Sixty years ago on a bus in Montgomery, Alabama, Rosa Parks changed the course of history by refusing to give up her seat to a white passenger. Today, she is remembered as an iconic figure in the Civil Rights movement.
Some people believe Parks stayed in her seat because she was physically tired. Parks herself would later explain, "The only tired I was, was tired of giving in."
Parks' actions sparked a movement. Seeing her defiant act, activists like Dr. Martin Luther King Jr. organized a boycott of the Montgomery Bus System. African-Americans stopped riding the bus, instead switching to bicycles and carpools. The boycott lasted 381 days, causing huge losses for the bus company. Parks' case went all the way to the Supreme Court, which ruled that segregation in public places is unconstitutional.
Parks' actions of civil disobedience made her a symbol of the struggles African-Americans faced in the Jim Crow South.
In a 1995 interview, Parks explained that she was not angry when she refused to leave her seat, but rather, determined.
"I don't remember feeling that anger, but I did feel determined to take this as an opportunity to let it be known that I did not want to be treated in that manner and that people have endured it far too long," said Parks, at age 82.
On the anniversary of this day, bus companies around the country have opted to honor her legacy by reserving a seat in the front of the bus.
[Sources: Simpson Street Free Press Archives; CNN.com]