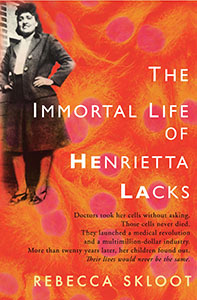 It's no wonder The Immortal Life of Henrietta Lacks—Rebecca Skloot's non-fiction account of theft, disease, exploitation, and science—became a bestseller. This shocking text tells the story of Henrietta Lacks, a woman incapable of telling it herself.
In January of 1951, in the 'colored' section of Johns Hopkins Hospital, Henrietta was diagnosed with stage one cervical cancer. She remained in the hospital for the next few months as she underwent various forms of treatment. Unbeknownst to her, a couple of rooms away, doctor and scientist George Gey was studying, with increasing fascination, the behavior of her cells. Gey had taken a sample of Henrietta's tumor and was growing the cells in a stew of chicken plasma, calf fetus puree, special salts, and human umbilical cord blood.
Due to the aggressive nature of her cancer, Henrietta's tumor fostered the first human cell line known to survive outside the body. Though Henrietta died a couple of months later, her cells, recognized only by the sample nickname, HeLa, have survived for decades and are still thriving today—hence her legend as "immortal."
Henrietta's cells continued to multiply, and they were soon distributed to labs around the world. They revolutionized modern research and formed the bedrock of tissue culture, a technique still prevalent today. HeLa cells also contributed to the development of vaccines and treatments for common illnesses such as polio, herpes, and influenza, in addition to more obscure diseases, like tularemia. These cells were even sent into space to study the effects of rocket travel on human tissue. Now, they are used in approximately 10 new studies every day.
For 20 years, Henrietta's family was unaware of her fame. While her cells were selling for $25 a vial, her children were unable to afford health insurance. In fact, the ethical standards of the time allowed Johns Hopkins Hospital to used her cells without permission or compensation. Because of Henrietta's color and economic class, few advocated for her or her family's rights.
Skloot's alternating depictions of scientific advancement and images of the Lacks' poverty captures a juxtaposition of the intrinsic value of the cells against the devaluing of human beings in the name of scientific progress. Through the dualistic writing style, Skloot paints a balanced and poignant portrayal of the development of the cells and their global influence.
Sadly, Henrietta Lacks was not the only person exploited by the medical industry because of her race and economic status. From 1932 to 1972, for instance, Tuskegee Institute studied syphilis as it slowly annihilated a group of impoverished black men. Penicillin, an effective treatment for syphilis, was accepted for medical use in 1947. Yet, during that 25-year period, doctors continued to tell the men that they had 'bad blood' and gave them only placebos, or inactive drugs, as treatment. By the time the study ended, only 74 of the original 400 participants were still alive. It was not until 1997 that those who survived this incident received compensation.
The intersection of race and class also influenced the scientific field and treatment of human beings in Puerto Rico during the 1950s. At this time, birth control pioneers Gregory Pincus and John Rock conducted clinical trials for their contraceptive pill on a vulnerable population of lower class women. They chose this group because they believed that if women in developing countries could use it, the pill must be simple enough for the broader public. Their original pill had high dosages of Enovid, a synthetic hormone that caused 17% of the women involved to report serious side effects. Additionally, three women died over the course of the study. Rock and Pincus dismissed these potentially lethal side effects and refused to investigate the cause of these women's deaths. Since these trials, the dosage amount and the side effects have been reduced. Pincus and Rock claim that the trials met the ethical standards of the time, but their disregard for their research subjects—poor women of color—exposes how they, too, participated in a system of scientific exploitation.
Tuskegee and Puerto Rico are only two samples of the countless instances of unethical treatment in research. From testing on slaves on plantations, to Jews in concentration camps, thousands of innocent lives have been taken in the name of science.
The Immortal Life of Henrietta Lacks provides a retrospective look at science's hypocrisies and an acknowledgment of lost lives. It also raises the question of patient rights and tissue ownership. I applaud Skloot's text for drawing attention to these issues. Organizations like the American Civil Liberties Union now stand up for patient rights and condemn companies that have been unethically establishing ownership of human tissue samples.
The Immortal Life of Henrietta Lacks ultimately makes the topic of scientific ethics accessible to a broad audience. This text also gives Henrietta Lacks and other research victims the acknowledgement and credit they deserve. Because of this, I believe that this text has been successful in achieving its purpose, and I would personally recommend it.
[Source: The Guardian; PBS.org; ScienceMuseum.org]