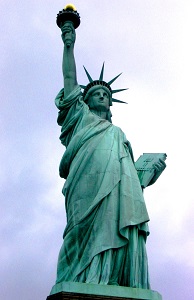 A famous symbol of freedom, the Statue of Liberty was originally a gift to the United States from France in admiration of our nation's democracy.
This North American monument was gifted to the United States on October 28, 1886. One of the largest statues in the world, the Statue of Liberty weighs approximately 225 tons and stands 93 meters above the ground in New York. President at the time Grover Cleveland celebrated the gift of the statue with lots of excitement by blowing ships' foghorns and setting fireworks off with a 21-gun salute.
When immigrants came to the United States from Europe beginning in the late 1880s, the first thing they saw was the torch of the Statue of Liberty. On Liberty's left hand there is a tablet that displays the Declaration of Independence. She also wears a crown with seven rays, which stands for freedom on all seven continents.
For decades, this statue has been admired by many from around the world. Visitors to Liberty Island, where the statue is located, used to be able to go up the staircase that led up to the statue's crown. Today, however, this staircase is closed.
The Statue of Liberty is a meaningful monument because it symbolizes and shows peace and freedom for all.
[Source: 100 Great Wonders of the World]