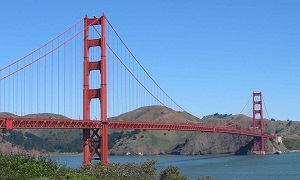 The Golden Gate Bridge is a stunning entry-way to the city of San Francisco. But it never would have become one of the 100 Wonders of the World without the determination of architect Joseph B. Strauss.
As early as the late 1800s, people began envisioning a bridge that would span the entrance to the San Francisco Bay. However, construction on the project did not begin until January 5, 1933, under the direction of Strauss.
Though the site chosen for the structure was difficult ground to build upon, Strauss was determined. When constructing the bridge, Strauss and his team faced strong currents, which only allowed for 20 minutes of work time while the tide was changing. Earthquakes presented another problem, since San Francisco is in an earthquake-prone zone. These treacherous conditions took the life of 11 workers and injured an additional 19 throughout the construction of the bridge.
The Golden Gate Bridge's pillars are 745 feet high and held together by almost 1.2 million steel rivets. The final rivet is made out of pure gold. The bridge's suspension is 8,950 feet long and holds an 82-foot road bed. The bridge has a total of six lanes containing bike paths, footpaths, and traffic lanes.
The Golden Gate Bridge's foundation is 1,100 feet from the shore and 1,000 feet deep. It also contains 27,000 individual, five-millimeter rope wires.
The bridge was completed on May 27, 1937. Over 200,000 people and 32,000 vehicles crossed this amazing structure on opening day. The completion of the Golden Gate Bridge is widely considered Strauss' greatest architectural achievement.
Without the determination of Strauss and his workers, The Golden Gate Bridge would never have become one of the biggest architectural marvels of both the United States and the world.
[Source: 100 Wonders of the World]