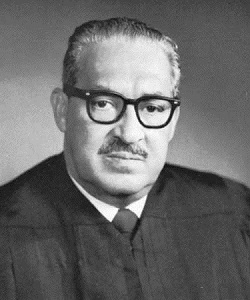 In 1967, Thurgood Marshall became the first African American appointed to the United States Supreme Court. Thirteen years earlier, he changed the course of civil rights when he successfully defended Brown vs. Board of Education before the Supreme Court and struck down the doctrine of "separate but equal" in public education.
The grandson of a slave, Marshall was born in Baltimore, Maryland on July 2, 1908. In his early life, Marshall and his father, William Marshall—a steward at one of the city's exclusive clubs—bonded by listening to cases at local courthouses.
When asked about how he became interested in law, Marshall replied, "the nearest I can get is that my dad, my brother, and I had the most violent arguments you ever heard about anything. I guess we argued five out of seven nights at the dinner table."
In 1922, Marshall attended what is now Frederick Douglass High School, where he was recognized as an excellent student and a gifted member of the debate team because of his verbal reasoning skills. However, Marshall was also known for his troublesome behavior. On one occasion, after misbehaving in class, he had to memorize the entire United States Constitution as his punishment.
Following high school, Marshall attended Lincoln University, a historical black college in Pennsylvania. Here, he became part of a student body of future leaders, including the future president of Ghana, Kwame Neuman; the famous poet, Langston Hughes; and the talented jazz singer, Cab Calloway.
In 1930, when Marshall applied to the University of Maryland Law School, the color of his skin kept the academically-gifted young man from being accepted. This experience with discrimination ultimately helped guide his career. That is, because of this rejection, Marshall decided to attend law school in Washington D.C. at Howard University, another black historical college. He graduated magna cum laude, and went on to become an outstanding professor at Howard Law School.
In 1934, Marshall started working for the Baltimore branch of the National Association for the Advancement of Colored People (NAACP). Here, he tried his first case, Murray v. Pearson, during which he sought to erode racial segregation in the United States.
Two years later, Marshall moved to New York to work full time as legal counsel for the NAACP. In this role, he won several cases that involved racial segregation such as Chambers vs. Florida, Smith vs. Allwright, and his greatest accomplishment of all: Brown vs. Board of Education.
Brown vs. Board of Education—the last of these cases—was filed because a group of black parents who lived in Topeka, Kansas were worried about their kids' education. The Topeka Board of Education wanted to ensure that all black students attended segregated schools. This policy was founded upon the principle of "separate but equal." But, as the Supreme Court ruled, "separate educational facilities are inherently unequal."
When the Brown vs. Board of Education ruling came in 1954, Marshall had successfully ended racially-segregated schools. And on October 2, 1967, he was nominated to become the first African American to serve on the Supreme Court.
Thurgood Marshall fought hard throughout his career and won one of the most important and historically significant cases in the 20th century. He never gave up and continued to advocate for justice for all. Marshall was a strong spokesperson for the black community, and he remains a unique role model for all people today.
[Source: biography.com]