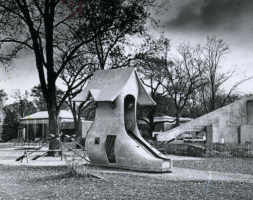 Those who frequent Vilas Park have likely noticed the Old-Woman-in-a-Shoe slide. For decades it has entertained young children, yet its history has mystfied the public.
A recent feature on the slide in the Wisconsin State Journal series "Madison in 100 Objects," however, brought forth answers. The children of those who built the slide provided its history.
In 1962, Lathers Local 111 volunteers framed the slide with metal lath while Operative Plasterers and Cement Masons Local 204 plastered its frame. To complete its construction, the slide was set in a concrete slab.
This history was reported by James Chitwood, a lather who contributed to the development of the slide. He credited Don Robinson, his fellow lather, for performing "all the brain work" behind the project.
Chitwood also stated that contractors established a fund to cover the expenses of both the materials for the slide and the unions' volunteer labor. He said the slide was dedicated to George Morell, a lather who had died before the slide's construction.
Though Warren Walder, head of the project, wanted to mark the slide with a plaque, he never received permission to do so from city parks regulators. No identification was ever placed on the slide, thus leaving its history a mystery to many, until now.
[Source: Wisconsin State Journal]