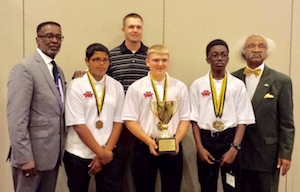 Recently, a team from Madison's James C. Wright Middle School took home the championship in a national African American History Challenge Bowl competition in New Orleans.
"We're now known as one of the national powerhouse chapters of the African American History Challenge Bowls," said Enis Ragland, the founding president of 100 Black Men of Madison, in an interview with Madison365. "I can't take much credit; the kids did all the work. We are very proud of them."
Ragland said the competition was close. It took place at the 100 Black Men of America's 31st Annual International Conference and National Competition in New Orleans. This marks the fifth time in 23 years a Madison team has brought home the gold.
Students who participated in the competition, including Wright's Pawan Baral, Jaden Wynn, and Micah Asplund, studied an African-American history book, Life Upon These Shores: Looking at African-American History. Then they answered questions about the book in a quiz show-style format. Wright Middle School triumphed in the Junior Division.
In April, the Wright Middle School team qualified for the national competition by winning a district-wide competition at the Doyle Building. Since then, Wright Middle School social studies teacher Robert Kilburg has coached them. The team also received help from Emanuel Scarbrough, a member of Madison's chapter of 100 Black Men. Ragland said the three young men on the team were "very sharp."
"It was a pleasure to spend time with them. They were fun to be around," said Ragland.
Simpson Street staff and students are very proud of and impressed by Baral, Wynn, and Asplund! Congratulations on a victory well deserved.
[Sources: Channel 15 News; Madison 365]