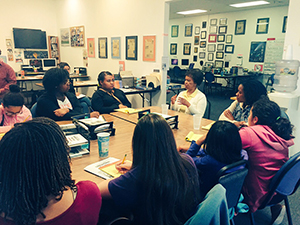 Recently, writers and editors gathered around at Simpson Street Free Press to hear uplifting words of wisdom from Barbara Jill Thomas. Thomas is a retired biochemist from Baltimore, Maryland.
Thomas' interest in science surfaced in high school and college. She enjoyed the hands-on aspect of it: dissecting organisms and experimenting with chemicals. One of the main reasons Thomas chose to study chemistry was because she was tired of being marginalized as a woman of color. She did not want to be ordinary—she wanted to be extraordinary.
Thomas went to high school in Baltimore, Maryland where she took higher-level science and math classes, and in the summer, a biology course.
Once Thomas graduated she went to Morgan State College, a historically African-American College, where she took more advanced classes. In her first year, she won the freshman chemistry award and as a senior, she was chosen as a senior departmental honors scholar.
After graduating, Thomas attended Wayne State University in Michigan to receive her PhD in physical chemistry. She attended Wayne State for one year and then dropped out because she got married. She worked in a biochemistry lab for 18 months in the Baltimore City Hospital and she then received a government job in gerontology research. Here, she worked with rat liver mitochondria for eight years. Thomas finally moved to Madison, Wisconsin, when her husband received his PhD. When Thomas was looking for work, she made sure that one of those jobs would not just be a lab technician; she wanted something that would pay her for the amount of skill she had. So Thomas decided to teach high school chemistry. Additionally, she organized tests for civil service jobs, visited campuses, and was manager of a research arbitrator. After many hard-working years, Thomas retired.
Speaking from experience, Thomas shared inspirational words with Simpson Street Free Press reporters. Her words were straightforward and stern, focusing on how to achieve your goals against all odds. She said, "If you set yourself up for failure, you will fail."
Thomas herself had all of the odds stacked against her, being an African-American woman in a predominately male field. But she pushed stereotypes aside and fought to achieve her goal.
Thomas is clearly an extraordinary woman. She has high expectations for young people, but perhaps especially for those who remind her of herself. She stressed that everyone should take advantage of the education available because a good education is the gateway to success.