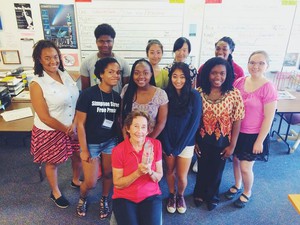 Recently, during a Simpson Street Free Press teen editor meeting, we were visited by a wonderful, high-achieving woman. We were lucky, and we quickly proceeded to pick her brain. Joan Collins has made a career of being a journalist, media consultant, and publicist. She started young. At age 11, she began her very own newspaper called The Neighborhood Chatterbox.
With only a typewriter, carbon paper, and her ten fingers, Collins supplied her 20 subscribers with the Fifth Street news for three summers. Her newspaper sold for 15 cents a month, five cents per issue, and produced a total of four issues per month. As she grew with the newspaper, she realized that publishing on her own—beyond just making money—was a good learning experience. She learned how to be her own boss and also maintained subscription and payment records. Her confidence grew immensely. By the age of 18, Collins had started her own business.
During this time, the thought of a woman starting her own business was appalling to some. But Collins had absolutely no time to think about the discrimination that would come charging her way. She had to prove to the world and also to herself that she was worth something and that women overall are capable of doing what seems impossible.
Once her business gained footing, men did everything they could to keep Collins out of the loop. Often, she was left out of business socials and 'male-only' meetings. Collins worked hard and with great determination to reach her personal business goals.
Collins' early passion for journalism followed her as she completed college. She began to learn how to sell articles to magazines and managed a freelance writing business with the help of her mentor. Collins was also a campus correspondent in Missouri, where she initially attended college, and during her senior year at UW-Madison.
At the age of 25, following college, Collins finally started her own agency—the same one for which she was recently awarded the Governor's Thrive Trailblazer Award for success in 50 plus years of business ownership. Her company expanded continuously over time. Today, Collins manages a staff that includes key media assistants in Milwaukee and Chicago.
Collins has no doubt made an impressive mark throughout the Midwest. The staff here at Simpson Street Free Press applauds her accomplishments and admires her dedication. We thank her for taking the time out of her busy schedule to speak with and inspire our teen editors. We young woman of the Free Press are ready to take on the world and, with examples like Collins', we know we can succeed.
[Sources: Madison.com; The Neighborhood Chatterbox]