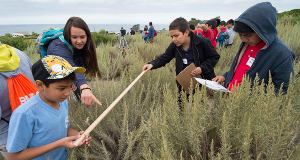 Wisconsin has a good history of clean water. Now, science experiments with clean water and the ability to validate policies are drawing the attention of parents, teachers, and students across the state. Kevin Anderson, president of the Council of State Science Supervisors, and Travis Tangen, WARF education and outreach manager and also project creator of the Wisconsin Science Festival, created a project where young people could help protect water. The project and students, experiment, were presented at the Wisconsin Annual Science Festival that was held in October.
The Wisconsin Department of Public Instruction supported the statewide water program to get the youth to work with scientists so they could learn more about clean water in Wisconsin. Students worked with groups like The Wisconsin Department of Natural Resources(DNR), the University of Wisconsin-Milwaukee Freshwater Science Center, and the Wisconsin Sea Grant Institution. Another project goal is to get younger generations excited about science.
Gov. Tony Evers made 2019 the "year of clean water" in Wisconsin and learning about water requires a scientific approach. He hopes to build a network of people across the state who work with water to encourage students to get involved with water issues in their communities.
In one of their projects, students marked a 10-square-foot area in a parking lot where water flows. Then they repeatedly swept the area, while estimating the total amount of leaves or other contaminants that might flow into the sewer and eventually a lake near the parking lot. They studied runoff patterns as the seasons changed to see how water moves toward storm drains, or to ravines or other natural areas.
The students can shared their findings in real life with project partners to make connections to support safe Wisconsin water.
[Source: The Cap Times]