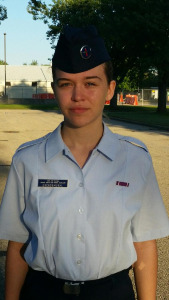 The five American military branches – Air Force, Army, Coast Guard, Marines, and Navy – often get all the credit for keeping us safe in our everyday lives. Meanwhile, the Air Force's civilian auxiliary, the Civil Air Patrol, works tirelessly day to day to ensure we are safe; but we rarely hear about them and the opportunities they provide to teens and adults alike.
In 1936, retired American World War I aviator Gill Robb Wilson anticipated a looming war in Germany upon return from his trip to Europe. This motivated him, and others, to inspire private American aviators to rally together in the name of national defense. A pilot from Ohio by the name of Milton Knight founded the Civil Air Reserve, otherwise known as CAR, in 1938. Three years later in 1941, Wilson established the Civil Air Defense Services, or CADS. On December 1, 1941, CADS, CAR, and other similar organizations joined together under the name Civil Air Patrol, more commonly known as CAP. They were united under Major General John Curry, for whom the Dress Blues and first CAP achievement is named.
During January of 1942, merchant vessels along America's east coast started getting attacked and sunk by German submarines. From March of that year until August of 1943, CAP aircraft were armed as they patrolled the border of Mexico all the way up to the coast of Maine. On April 29, 1943, President Roosevelt signed Executive Order 9339, which transferred CAP from the Office of Civil Defense to the Department of War. This was a major step, as CAP was established as part of the military before the Air Force was even made a separate branch from the Army.
Early into the establishment of CAP, there was no cadet program available for youth, until October 1, 1942. The CAP Cadet Program was established initially for youth ages 15 to 18. This would later be open to ages 12 and up, making it a more accessible opportunity.
During the 9/11 terrorist attacks and the days after, CAP was ordered to take the first aerial photos of the World Trade Center remains. The small Cessna 172 flown by squadrons across the country was the only non-military aircraft permitted flight. CAP also assisted by moving blood and organ donations around, along with medical supplies.
In 2015, Air Force Chief of Staff Mark A. Welsh III named CAP as part of the Total Force, equating them to active, guard, and reserve divisions of the Air Force. Because of this, when civil airmen are called to service, they drop the 'civil' from their name; they are equal to regular airmen.
There are three missions that govern CAP's existence: emergency services, aerospace education, and cadet programs. The cadet programs offer valuable opportunities to both youth interested in pursuing military/aerospace careers and those not. CAP focuses youth on leadership, aerospace, and character, as well as the importance of fitness and health, all of which could go on to help cadets in the future, should they pursue the military.
Civil Air Patrol may be one of the military's best kept secrets. While providing valuable resources to the public, it also helps prepare the next generation of engineers, scientists, and pilots. Although CAP youth are deeply involved in military traditions and ceremonies and are considered airmen, involvement does not require them to go on to a military career. Nevertheless, CAP provides important resources to the public and volunteers alike that has the potential to benefit everyone.
[Source: Civil Air Patrol National Headquarters]