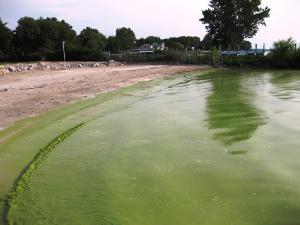 Eight Dane County beaches are plagued with algae blooms. Madison was forced to close its beaches for an extended period of time because of unsatisfactory health inspections. County Executive Joe Parisi and other civic leaders alike finally found an effective way of combating the algae blooms and nutrients.
The issue typically starts when legacy sediments, a phosphorus nutrient, streams down into the Yahara Chain of Lakes. To prevent any future concerns, Dane County purchased a 160-acre farm next to the Pheasant Branch Conservancy which should prevent about five million gallons of water from entering Lake Mendota yearly.
The city and county plan to use the "clean beach treatment system," costing roughly $100,000. Starting at Warner Park beach next spring, this process will continue at the following beaches: Esther, James, Madison, Tenney, and Vilas.
"Everyone should have the opportunity to swim, even if they can't afford admission to a pool," Parisi stated.
This outbreak of algae blooms in Madison has brought awareness to the true dangers of untreated beaches. Fortunately, three out of the eight beaches have safety systems.
Madison reached its peak of beach closures in 2018. Assistant Director of the Dane County Land and Water Resources Department John Reimer first described the design of the system in 2011. The physical structure includes a sturdy curtain on the outer edges of the system to block any harmful phosphorus nutrients from entering the water system. A water pump is used to kill off any algae. These preventative systems will greatly improve the safety conditions of the Madison lakes in the future.
To keep this plan in effect, Dane County will pay for the system installments and Madison will keep up with maintenance, calculating a yearly cost of under $1,000 according to Reimer.
Mayor Satya Rhodes-Conway claims that this new approach will allow the city beaches to be open every day next summer! Simpson Street previously wrote about the Clean Beach System. For more background information, click here.
[Source: Madison.com]