An Evening with Dan Rather
Simpson Street Free Press Reporters Quiz a Legendary American Journalist
by Ali Khan age 16, and Lucy Ji, age 17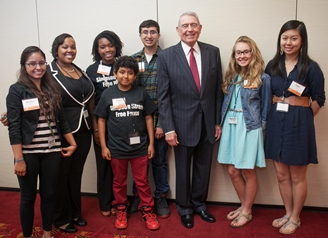 Recently, seven Simpson Street Free Press reporters had the opportunity to attend Madison Community Foundation's 2014 annual event. It was enlightening, educational, and fun. The highlight of the night was the keynote address, given by renowned journalist and reporter, Dan Rather.

Raised in Wharton County, Texas, Rather grew up in a small and tight-knit community. This humble upbringing contributed to the down-to-earth manner that enhanced his ability as a reporter. Most commonly known as the news anchor for CBS Evening News and 60 Minutes, he has received numerous Emmy and Peabody Awards.

In addition to the main event, Simpson Street Free Press was invited to a press conference held before the event. There we had the privilege of asking Mr. Rather a few questions.

SSFP staff writer, Ali Khan, asked about Rather's experiences on the ground in the Soviet-Afghan War during the 1980's. Rather responded by telling the story of how he trekked into the country from Peshawar, Pakistan through the mountainous Khyber Pass on the Afghanistan border. Conversing with Dan Rather was not like talking with any other adult. His responses were personal. He treated us like the professional journalists that we hope to become.

Our fellow SSFP reporter, Taylor Kilgore, asked Dan Rather about the cost of today's higher education and what role philanthropy might play in addressing these issues. He responded by telling us about the low cost of college tuition during his years at Sam Houston State University in 1950's. The price? Thirty seven dollars per year. He believes national policy should ensure every child who desires to go to college is able to.

Our last question addressed the importance of writing and journalism as a profession. He enlightened us with a few of his Rather-isms. Rather says, "Writing is the rock on which everything is built." As he preaches about the importance of journalism, he expressed his belief that "writing is the bedrock of the craft of Journalism."

Dan Rather's enthusiasm continued throughout the night. As the keynote speaker, he wowed the audience with his humorous stories. He reflected on the life changing people he has met throughout his career including civil rights leader, Dr. Martin Luther King Jr., activist, Malcolm X, and former president Dwight D. Eisenhower. Wide eyed, the audience applauded in a long standing ovation.

The event was well put together and an inspiring experience for us future journalists and reporters. We learned a lot about the incredibly important accomplishments of the Madison Community Foundation. It was an evening none of us will soon forget.