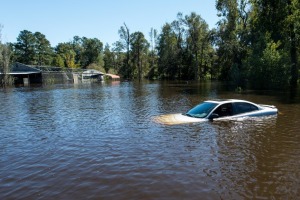 Flooding isn't one of Dane County's biggest concerns, but there is certainly a risk.
Lakes Mendota, Monona, Waubesa, and Kegonsa have risen above their summer maximum water levels. However, the city is not as concerned that the Isthmus or other low lying areas will encounter flooding. Nevertheless, chances of flooding are still unpredictable. "Flash flooding can happen at any time, so we keep an eye on every storm," said Hannah Moheltnizky, Engineering Division spokeswoman of the Department of Natural Resources. She said the division hasn't decided on new practices for flood prevention yet. It is, however, still gathering data on the watershed studies and what parts of the city are most in danger from heavy rainstorms. As part of its watershed studies, the city is holding public hearings and convening focus groups.
"The lakes mentioned above are at lower water level than they were last year," said Laura Hicklin, County Land and Water Resources Department director. Last August and September, a severe flash flood caused flooding over a large area along Lake Monona. This flash flooding was caused by torrential downpouring last August. The city of Madison was filled with floodwater for many weeks as the lake water overwhelmed storm sewers on the Isthmus. If a huge storm happens again, flooding just like the last one will most likely happen again.
So what now? Aquatic weed harvesters were directed to take out plants that were clogging the Yahara River waterways. Also, to increase the flow of the water, the county needs to clean out the sand and the mud lying at the bottom of the Yahara River, Lake Monona, and Lake Waubesa. The build-up is between two to three feet thick, reaching around 1.75 miles of the riverbed. "Future flood prevention and stormwater management has been a priority of the DNR Engineering Divison since last summer," said Mohelnitzky.
Although these aren't necessarily permanent solutions, Madison is taking steps to prevent another flood. To receive more updates about the city's flood prevention efforts, residents can sign up at go.madison.com/flood-updates.
[Source: Madison.com; Dane County Land and Water Resources Department]