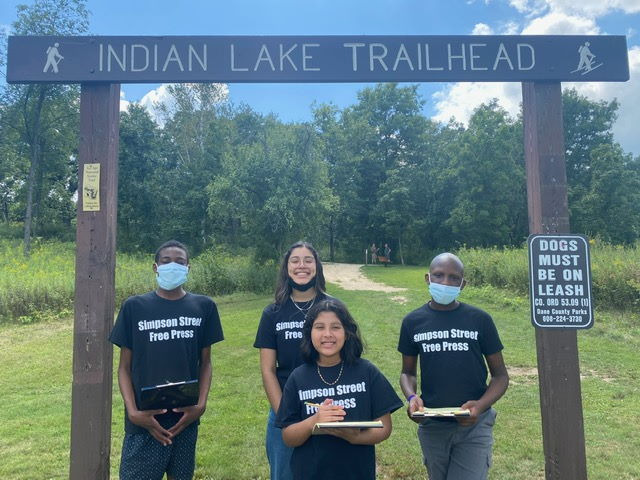 You Still Have Time to Sign Up for the
Indian Lake County Park Trail Run
by Desteny Alvarez, age 16
Regular readers of Simpson Street Free Press know we are big fans of Indian Lake County Park. This is one of the largest and most popular parks in the Dane County system. And now you can support this wonderful place, visit the park during beautiful fall weather, and have fun all at the same time.
The Friends of Indian Lake will host their annual "Trail Run at Indian Lake" event on Saturday, October 2. While last fall's run was held virtually, this year's event marks a return to in-person running. Organizers are being careful to follow all public health guidelines as they plan for the event.
Funds raised from this year's event will go to support the Friends of Indian Lake and will be used for habitat restoration, trail maintenance, and infrastructure improvements. Those who want to participate can choose to run or walk a 7K course, or a longer 12K course. Depending on public health updates, a free kids run is also planned.
Many Dane County residents enjoy Indian Lake Park because of its extensive network of trails and the beautiful scenery. At about 500 acres, there is much to see and do at this park. Indian Lake County Park offers hiking trails, fishing, a play area for children, an excellent dog park, and a picnic area.
While visiting Indian Lake County Park, you can walk through natural prairies, sedge meadows, or follow the park's trails to explore the woodlands areas. You can also see examples of oak savanna restoration, an important and ongoing series of projects at Indian Lake.
Friends of Indian Lake call this year's event a "celebration of fall, trail running, community, and public lands." As part of the celebration, they also plan an after party with food, beverages, and a raffle. The Currach Irish Trio will perform at the after party.
You can find out more and sign up for the event by visiting the Friends of Indian Lake website. Students can register using the code STUDENT25 on the registration page for discounted $25 race entry.
[Sources: FriendsOfIndianLake.com; Dane County Parks]