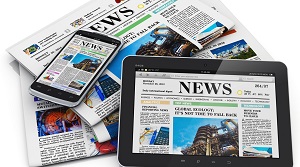 How do people react when they see a headline with which they disagree? Do they read it, skip it, or gloss over it without batting an eyelash?
In the age of online publishing, media companies use services to track readership. Several publications including The New York Times, The Washington Post, and Reuters use Chartbeat, a web-analytic software that displays the most popular stories, readers' locations, and the time readers spend reading each article.
Editors of The New York Times column "The Upshot" recently commissioned a study from Chartbeat to look at readers' behavior and biases. Chartbeat divided news organizations into two groups: those with more liberal readership and those with more conservative readership.
Ultimately, the study concluded that, in spite of their perceived 'leanings,' news sites covered both conservative and liberal current events. However, it also suggested that readers spent more time on articles that supported their own political beliefs, regardless of the article's origin. For example, this was true when the researchers studied coverage of President Trump's inauguration attendance size. Although both liberal and conservative news outlets reported this story, news sites that attracted liberal audiences found their readers engaged more with the article, which portrayed Trump's inauguration negatively, in comparison to sites with conservative audiences. That is, liberal readers were more likely to read, click, and scroll for information when the article confirmed their own bias.
According to Kevin Quealy of the "The Upshot," Chartbeat's study can be viewed as a "supply and demand" study because it measures the number of major events covered by the news outlets—"supply"—and the amount of time readers take to read them—"demand."
This trend of readers engaging more with content that reflects their biases is not surprising. In fact, many years of research have shown that people don't like to hear bad news.
Psychology professor James Shepperd said of this pattern, "generally, people prefer information consistent with their beliefs, views and prior behaviors, and avoid information that's inconsistent."
Ignoring unpleasant news, for example, is like an individual not wanting to know he has cancer, refusing to look at his credit card balance after a shopping spree, or not wanting to know if his significant other is cheating. Shepperd said, "everybody avoids information."
The Chartbeat study seems to prove that people gloss over news stories they don't want to see. This can certainly make it difficult for individuals to see the other side of issues and reach shared understandings—a problem more relevant now than ever in today's hyper-polarized political climate.
[Source: The New York Times]