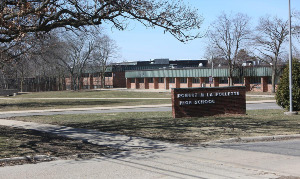 On Tuesday, April 16, the Madison Metropolitan School District announced that a principal from Beloit, Devon LaRosa, would be taking over as La Follette's principal next year. This announcement followed the one made late last year by La Follette's current principal, Sam Storch, that he would be leaving La Follette in order to pursue a different job within the district administration.
LaRosa has a bachelor's degree in history from Rockford University, a master's degree in education from National Louis University, and is a doctoral candidate at Aurora University. Before being appointed principal at La Follette, he worked as a history teacher in Rockford, Illinois; as a principal in two different schools in Illinois; and has worked as a principal at a school in Beloit for the past few years.
LaRosa will begin his transitioning on May 6; however, Storch, along with another district administrator, will be heading La Follette until the end of the school year to ensure a smooth process. LaRosa will have to be prepared for the task of leading La Follette, as there have been recent issues with gun violence near the school involving some of the students. This school should be in good hands though, since the district has sent the director of curriculum and instruction on a special assignment to La Follette to work on strengthening its leadership team.
With the help of other school leaders in the transition, "Devon will be able to engage with students, staff and families, and learn deeply," Superintendent Jennifer Cheatham said.
[Source: Wisconsin State Journal]