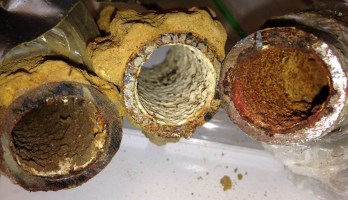 The issue of lead in Wisconsin water is critical and widely recognized. However, the debate continues regarding who is financially responsible for repairing lead pipe lines. Recently, a bill was proposed in Wisconsin legislature that would require local water utilities to offer low and no-interest loans and grants to low-income families seeking to replace their service lines.
Lead poisoning has detrimental effects on children. Exposure to even trace amounts of lead can lead to cognitive, behavioral, and health issues in youth including anemia, slowed growth, and hearing loss.
In the state of Wisconsin, water utility companies are currently only required to replace public lines. This puts the financial onus of replacing pipes on a homeowner's property on the homeowner. Replacing these pipes costs $3,610 on average, according to a recent column by The Capital Times editor Dave Zweifel.
Thus, low-income families who can't afford to replace their pipes are put at a higher risk for lead poisoning. This disproportionately endangers children from poorer neighborhoods. Further, replacing only parts of a system can cause more corrosion, consequently allowing more lead to seep into water supply.
Passing a bill to subsidize homeowner costs of lead pipe removal seems like a no-brainer. However, a powerful Wisconsin lobby has made a statement opposing the bill. Wisconsin Manufacturers & Commerce (WMC) said in a statement to the State Ethics Commission that cities should be financially responsible for replacing lead pipes rather than utility companies. Under the current proposition, members of WMC would be footing the bill for these replacements.
Lucas Vebber, environmental policy director at WMC, feels that the money water utility ratepayers contribute to municipalities -totaling about $100 million- should be used to replace private lead pipes.
"It is definitely possible for municipalities with existing funding sources, with the existing powers they have, to provide this financial assistance. And they can be doing it, they should be doing it, we wish they would be," Vebber said in an interview with The Capital Times.
But Kerry Schumann, executive director for the Wisconsin League of Conservation Voters, said the proposed bill is necessary to solve the problems regarding lead pipes in Wisconsin.
"It's not just about the individual child or family. It really has such huge applications that it's something we have to address," Schumann told The Capital Times.
In a recent editorial for The Capital Times, Schumann called the situation in Wisconsin "a public health crisis" and urged citizens to call their state legislators to express support for the bill.
Schumann and other supporters of the bill argue that the state needs to utilize money from water utility ratepayers, as finding the money to replace the lines would be difficult and time consuming.
Schumann told reporters, "No child should live a diminished life because WMC threw its weight around in Madison and blocked this bill."
[Source: The Capital Times]