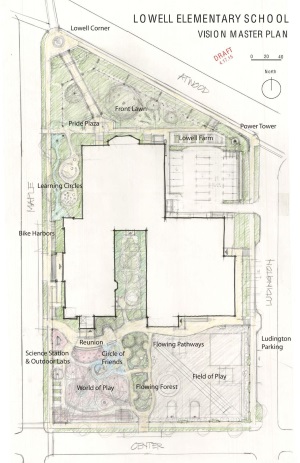 Lowell Elementary School just celebrated its 100th birthday. The building, located at 401 Maple Avenue on Madison's east side, opened its doors on January 3, 1916. More than 400 students currently attend Lowell Elementary.
As part of a year-long centennial celebration, the school's parent-teacher organization will launch a $400,000 fundraising campaign. According to a recent press release, all funds will help pay for a new playground and new exterior of the school. These upgrades are intended to "inspire connections with nature, and to create a welcoming, safe and accessible environment for our neighborhood school," the press release said.
Kadjata Bah, who has been attending Lowell for five years said, "a new playground and a learning circle will make people happy and enjoy the place even more."
With the school turning 100 years old, Lowell and its supporters have come up with a friendly competition to see which classroom raises the most money for the playground. Although it is a competition, everyone seems glad to help. We talked to students, teachers, and parents, and everyone seems to view this school in a very positive way. Kadjata is especially ecstatic about it. "I am very happy about it and excited about getting interactive with it," she said.
Lowell Elementary may have some changes on the outside, but its heart will always be the same. "The faculty lounge is very old and so are some other parts of the building," Kadjata said. The history contained at this school makes it different and more original than many other schools.
Adding new and inventive ideas for education is a big part of this plan. Lowell already has a garden that all students help tend with enthusiastic excitement. Now they'll have a bigger garden and more outdoor spaces. The playground will also expand.
The funds that are raised this year will help pay for a new playground and other outside learning spaces. A new Go Fund Me page has been set up for people and businesses to donate. Those wanting to support Lowell and the project can donate [by clicking here].
[Source: Lowell School Press Release, Interview with Kadjata Bah]