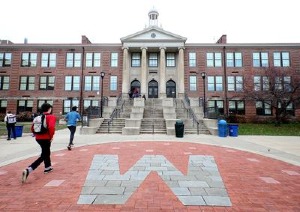 A group comprised mostly of freshman from Madison West High School is set to compete in the International Paris Air show in late June. The team's goal? To send three large eggs 856 feet into the air, and to bring them back down in a safe and uncracked landing.
Earlier in May, the students qualified for the international competition by taking first place in the Team America Rocketry Challenge located in Washington D.C. One hundred other teams competed, including another team from Madison West. This win marks the third time West High will send a team to the International Paris Air show, the last time being seven years ago in 2012.
"It was a great team-building experience," said fifteen-year-old Nathan Wagner, "as well as something we could show off our potential and say, 'Hey, this is what America's got, this is what West High's got, and this is what we're going to carry to internationals.'"
According to a recent story by Logan Wroge, published in the Wisconsin State Journal, the rocket that the students construct for the international competition will be 34 inches long and will be made out of lightweight materials such as craft paper tubing, fiberglass fins, and a plastic nose cone. The rocket is divided into two main pieces – the payload portion, which will hold the three eggs, and the booster component, which will give the rocket its' power to hopefully fly 856 feet into the air. 856 feet was chosen as a tribute to Neil Armstrong, the first man on the moon, who touched the lunar surface at 8:56 p.m. on July 20, 1969. The three eggs are to represent the three astronauts on the Apollo 11 mission.
The team will also give a verbal presentation about their project, with 40% of their overall score coming from the presentation portion. This means hours of practice beforehand in order to be prepared for any questions that judges may throw their way. Questions like: why did you design your rocket like this? Or why did you choose fiberglass over wood for the fins?
Congratulations to the West High School rocket team for qualifying for the international competition. We wish the team luck as they leave for France and a successful launch of their rocket.
[Sources: Wisconsin State Journal; Madison.com]