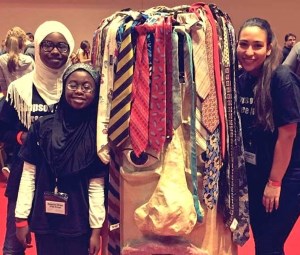 The 'Maker Faire' movement is sweeping the nation. And earlier this month, it took Madison by storm.
The Maker Faire movement celebrates those who create with their hands and turn visions into tangible, hand-made products. Maker Faires include a wide variety of crafters from yarn spinners to robotics designers and hearing-aid inventors to dog collar innovators.
As staff reporters at the Free Press, we work with our hands to write and produce a newspaper. We were honored to be among over 75 Madison makers who displayed their works at Madison's first annual Mini Maker Faire. Here, hundreds of community members came to learn from the Makers present.
The morning of the 14th, my sister Mariama and I met SSFP editors Aarushi Agni and Eleazar Wawa and teen editor Sarah Useche at our South Towne Office. After preparing briefly and piling our arms high with our product—our publication, of course—we set off on what eventually became one of the greatest field trips of all time.
Once we arrived at Monona Terrace, we set up our booth. Throughout the day, all of us took shifts between hosting our booth where we talked with community members about writing, and visiting other makers at their booths.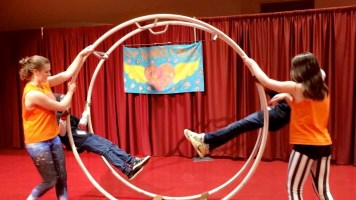 Mariama and I were the first to explore. First, we stopped at a circus exhibit, sponsored by Madison Circus Space. We hopped onto a German wheel (see picture), which we rocked back and forth using our balanced physical force. This was so much fun!
After the circus exhibit, we ventured toward an area of the Faire busy with science exhibits. Here, we met with makers at the New Century School. Young students from the school were displaying an invention made to help people who are deaf. We also saw a working model of a guinea pig food machine, created by another student at this school. This invention would supply food for guinea pigs while the pets' owners are away for an extended period of time. My sister Mariama is obsessed with guinea pigs, so this was one of her favorite products. Yet another student came up with a vibrating dog collar. This smart collar warns owners when their dogs leave the house.
Graduate students at the UW School of Engineering created a machine that played music, which was featured at another booth. If they hooked you up to the machine, you could dance. Depending on how quickly you danced, the music would change tempo. Mariama and I had so much fun visiting the different booths. I'm not much of a dancer, but I had fun watching my sister dance as fast as possible.
I was probably most fascinated by Andrea from the Mad Knitting Lab. She creates pillows with pictures on them. She bought a 1980's era electronic knitting machine and hacked it to create realistic photographic designs for pillows, accurate to the pixel level.
The event really unveiled how much creative talent exists in our city. First created by San Francisco-based Maker Media, the publishers of Make Magazine, Maker Faires are licensed events. The first-ever Faire took place in San Mateo, California in 2005. Ten years later, the concept has spread worldwide.
"There are literally hundreds happening right now," said Heather Sabin, tourism coordinator at Monona Terrace and organizer of Madison's Maker Faire.
We at SSFP had an amazing time at this year's Faire and already can't wait for next year's event! We'd like to thank Heather and her staff for their excellent work; we're so grateful to have been a part of this inaugural experience.