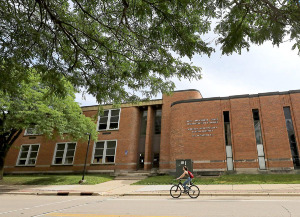 Madison school officials will consider hiring an Ohio-based company known for policies that some say hinder the free speech rights of student journalists.
Two school board members and Interim Superintendent Jane Belmore met last month with representatives of Ohio-based NEOLA. NEOLA is a policy-writing firm often hired by school districts to write and implement policies for local boards and local administrators.
NEOLA policies were scrutinized recently in Wisconsin during a controversial case in Oshkosh. In that case a student reporter was prevented from publishing a story about abrupt staff changes at Oshkosh North High School.
The Milwaukee Journal-Sentinel reported that Brock Doemel, a senior at Oshkosh North, eventually filed open records requests to learn more about an absent school staff member and to learn more about why the student-written story was removed from the school's newspaper.
But policies written by NEOLA refer to student newspapers as "nonpublic forums" and therefore controlled by school district administrators. In the Oshkosh case, policies written by NEOLA were cited as reasons for denying open records requests, requiring student journalists to pay for public records, and asking student journalists to share their reporter's notes, according to the Milwaukee Journal Sentinel.
"The rule is that in what should be an open forum, the students have the right to publish unfettered and then they deal with the backlash that comes or the kudos that come," said Vince Filak, a journalism professor at the University of Wisconsin—Oshkosh who criticized NEOLA media policies.
Oshkosh students contacted the Student Press Law Center seeking advice in the case. Mike Hiestand, senior legal counsel at the center, called NEOLA a "policy mill." He said NEOLA's "student media policies, in particular, has been something we've been battling here at the Student Press Law Center for 15-20 years."
MMSD spokesperson Tim LeMonds spoke to The Capital Times and confirmed the district is "strongly considering" a partnership with NEOLA. The company's website shows NEOLA offers services on bylaws and policies, administrative guidelines and procedures, and a district policy website.
Standard NEOLA policies classify all school-sponsored student publications and performances as "unprotected speech." According to NEOLA policies the school board "authorize(s) the administration to engage in prior review and restraint of school-sponsored publications and productions to prevent the publication or performance of unprotected speech."
"School officials shall routinely and systematically review and, if necessary, restrict the style and/or content of all school-sponsored student publications and productions prior to publication/performance in a reasonable manner that is neutral as to the viewpoint of the speaker," according to NEOLA Policies.
Bill Lueders, president of the Wisconsin Freedom of Information Council, called the NEOLA policy model for student newspapers "needlessly restrictive."
"The Madison Metropolitan School District should be affording student journalists broad freedom to publish without imposing onerous constraints," Lueders said in an email to Simpson Street Free Press. "If the district is indeed moving in this direction, it needs to explain why it is doing so. What problems is it experiencing that it needs to be constricting the freedoms of student journalists?"
As reported by The Capital Times, NEOLA representatives say School board members can amend or adjust specific policies on specific topics to meet local needs.
Indeed, the Wisconsin Newspaper Association reported that school board members in Oshkosh agreed to review NEOLA policies governing student publications after the case at Oshkosh North High School sparked controversy.
Simpson Street Free Press reached out via email to Interim Superintendent Belmore with some questions concerning last month's meeting, and we are still waiting for her response. LeMonds emphasized that no final decision on adopting NEOLA policies is expected prior to the arrival of new superintendent Matthew Gutierrez.
Hiestand of the Student Press Law Center told the Milwaukee Journal Sentinel that NEOLA installs "horrible student media policies, if you really believe that you should be teaching young journalists how to actually function as journalists."
[Sources: Milwaukee Journal Sentinel; Wisconsin Newspaper Association; Student Press Law Center; The Capital Times; NEOLA]