Green Bay Chooses Natural Extermination
City Brings in Birds of Prey to Reduce Rodent Populations
by Eleazar Wawa, age 16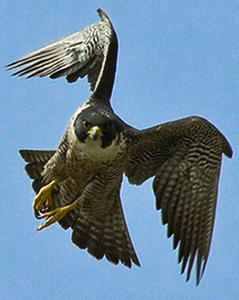 The city of Green Bay has a downtown rodent infestation and city officials intend to deal with it in a unique way; they plan to introduce birds of prey.
By this fall, Green Bay officials hope to exterminate the rodents by pitting them against their natural predators. City work crews will establish ten nesting grounds this spring that will house endangered birds, such as falcons, American kestrels, and other birds of prey. Officials hope that guiding these birds to a regular meal will increase their dwindling populations while decreasing the large number of rodents.
The first attempt will focus on the mice populations known to inhabit Bay Beach Amusement Park. By luring American kestrels to the mice at the amusement park, and then leading them downtown, they hope to coax larger birds, like hawks and falcons, to a reliable food source in an urban habitat.
Previous suggestions to exterminate the rodents included using professional pest controllers. After this method was dismissed by the city council, this new "natural" means of extermination was agreed upon.
City animal-control officer Sharon Henson stated, "Let them do their thing. You've got to keep the balance of nature."
Chris Nauman, executive director of the On Broadway Inc. business coalition said, "Urban wildlife does have its advantages, it wouldn't hurt -- let's put it that way." He also pointed out that other large cities are using birds of prey to dispose of their rodents.
City officials claim that the advantage of using birds of prey lessens the need for pesticides or other chemicals. Favoring this "environmentally friendly" alternative solution, the Green Bay City Council has approved its launch in November.
[Sources: Green Bay Press Gazette; Milwaukee Journal-Sentinel]