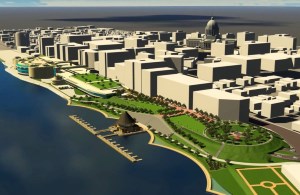 At its recent 75th anniversary celebration, the Madison Community Foundation unveiled its plan to fund a new downtown green-space, the construction of which may take many decades to finish.
The Community Foundation announced to hundreds of local shareholders, legacy members, and non-profit partners that it gifted $27,500 to the 'Nolen Waterfront project' and will continue to fund research around the project's feasibility. The plan would connect Downtown to Lake Monona; include constructing a boathouse, a roof-deck park that would extend from Law Park over John Nolen Drive, and a bicycle-and-pedestrian bridge; and better the Blair Street intersection.
The Nolen Waterfront project, inspired by its namesake John Nolen's 1909 city plan, was organized by the Madison Design Professionals Workgroup. Many other Madison minds have been at work on the project including local urban planners, architects, and civic volunteers.
Nolen Waterfront will be the group's biggest feat yet and will come with an equally-sizeable price tag. In fact, it could cost up to hundreds of millions of dollars.
Despite its construction time and expenses, the Nolen Waterfront will offer the Madison community a variety of benefits. Park-goers could feel safe while enjoying recreational activities; improvements to the Blair Street intersection would increase space in a combusted area; and similar roof-deck parks have spurred millions of dollars in economic growth in other cities—Chicago's Millennium Park and New York City's Highline Park, for example.
Tom Linfield, Vice President of the Community Foundation, said of the project, "we want to support the visionaries in our community, and we're in this for the long run."
But Ald. Mike Veveer, representative of the Downtown district, warned that Madison residents shouldn't be too eager just yet.
"I don't want the community to get their hopes up that this will allow the city to move forward expeditiously…[t]he reality is that significant city funds would be needed to make this a reality," Veveer said.
[Sources: madison.com; Wisconsin State Journal]