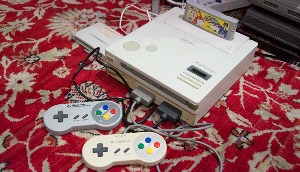 In the early 90s, Nintendo and Sony teamed up to create a new video game console. It was called the "Nintendo Playstation", and there's only one prototype left in the world.
Nintendo had advertised it before, but the console was forgotten until late 2019. It wasn't only supposed to be a video game console, but also a DVD Player.
Sony was affiliated with Nintendo at the time, but Sony called quits on working with Nintendo and made the Playstation alone.
There were no CD-Rom Games created for the Nintendo Playstation, but it still works for Super Nintendo games. The console is very rare and no one had the chance to see or play it. Now that it's revealed on February 14, 2020, you'll have the opportunity to bid on the hybrid console. It'll auction between March 5th and March 7th.
[Source: Business Insider]