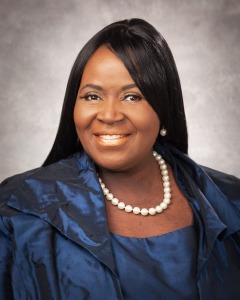 On the night of August 14, 2018 history was made. Shelia Stubbs became the first black legislator in district 77.
The journey to that historic night began more than 40 years ago. Along the way the Black community lifted her until she finally landed in politics: taking her from Arkansas to Wisconsin to Mississppi and finally back to Wisconsin. Now, she looks to return the favor.
Finding Community
Stubbs's favorite classes in school were political science, Future Homemaker's of America (FHA Hero's), black history, social studies, and Spanish. She graduated from Beloit Memorial High School in 1989 and attended Tougaloo College in Tougaloo, Mississippi where she graduated in 1993 with a bachelor's degree in Arts and Political Science. Then, she went to Jackson State University in Jackson, Mississippi where she graduated with a bachelor's degree in Criminal Justice administration. Afterwards, she went to graduate school for a Master's Degree in Science and Management at Cardinal Stretch located in Milwaukee, Wisconsin.
The reason she went to historically black colleges and universities (HBCU) was because: "My mom. My parents are both from the south and my mom said it would be a wonderful opportunity to get to know myself. At Jackson State they had many Black justices, Black attorneys, Black doctors, and more. It was different than Beloit where there weren't that many Black justices, attorneys, and doctors."
Shelia Stubbs finally made the big step into politics. She began her political career volunteering in campaigns. She helped with Mississippi's Congressman, D-MS 2nd District Bennie Thompson's campaign, and with U.S. Sen., D-WI Tammy Baldwin's campaign.
Stubbs decided to run for the Wisconsin State Assembly because many people urged her to. People saw many of her traits, and they saw what she is capable of.
Learning from her Community
Shelia Stubbs's mother was a neighborhood organizer. She learned how to be an advocate for people of color, marginalized communities, and many other things. Stubbs had many inspirations. She admired her uncle, Walter Knight, who was the President of the Beloit City Council in Wisconsin. Her pastor, Dr. Floyd Prud, was also an inspiration to her. The teachers who helped inspired Stubbs, Doris Vollmer, Dr. Olusola Olabode, Robin Tucker, Dorothy Hero, Gumpon, and Ms. Wilson, all paved a path for Stubbs. This was her community that inspired her.
And it is this community that she will take with her as she takes another step in her journey. This time into public office.
While Shelia Stubbs is in office, she will try to divert tax dollars so communities can spend that money for improving education, reducing racism, protecting the environment, reforming prison systems, preventing gun violence, strengthening the safety net for disadvantaged people, and increasing access to health care, according to her website.
For people who want to become politicians, Stubbs says, "Keep dreaming, go volunteer at a campaign, and start at a local-level, the closest position to people so you can have good people skills."
Stubbs would like to thank a lot of people: God, her parents Linda and Benjamin, her husband Godfrey Stubbs, her daughter, all the children in the Bahamas (where her husband is from), her End Time church family, her siblings and their families, her campaign team, her endorsers, her mentors, her advisors, and U.S Representative Mark Pocan, (Rep. , D-WI.)
Stubbs will always bring solutions and put her passion, experience, and advocacy in all the work she will do. She is very humble, grateful, thankful, and excited to get to work. She gives all of credit to the Lord. She knows if it weren't for Him, she wouldn't be able to do what she's doing right now.
Shelia Stubbs will be sworn into office in January 2019.
[Source: Interview and sheliastubbs.com]