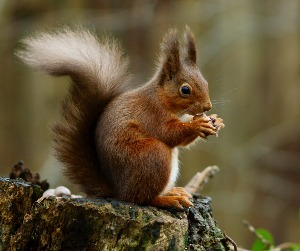 South Korea has a problem, and it involves squirrels. Acorns are being taken from parks and forests for human consumption, and it's negatively affecting the squirrels. According to experts, each individual squirrel needs to bury more than 100 acorns to survive the winter.
The population of squirrels has decreased by about 30 percent in the past decade, according to a 2018 wildlife report by South Korea's National Institute of Biological Resources. This all began when researchers announced that an acorn is a "superfood" that can help battle obesity and diabetes.
That's not the only reason. People are saying that acorns make great food products like noodles, jelly powder, and coffee. Acorns were eaten a lot during famines or poor harvest, when South Koreans made a special dish called dotori muk. This is made by soaking acorns for a few days then mashing them up, and eventually boiling the acorn starch. Dotori muk can be served as thin gelatinous blocks with a light drizzle of soy sauce and scallions, pan fried cakes, dumplings and more. Shin Kyungja finds acorns near her home and makes an acorn powder, then sells it online. "My children tell me I'm mean for taking food away from the squirrels," she says.
The problem has become big enough that people caught gathering acorns for commercial use can face a five year prison sentence or a $40,000 fine. Also, at Seoul Yonsei University they have acorn rangers who prevent the nut from being taken from their parks. One year at Bukhansan National Park, employees recovered 450 pounds of acorns from those trying to steal them. A helicopter had to be used to redistribute the precious nut to the squirrels.
Squirrels in South Korea are going through hard times right now, so next time you see an acorn put it under a leaf for a squirrel to find.
[Source: Wall Street Journal]