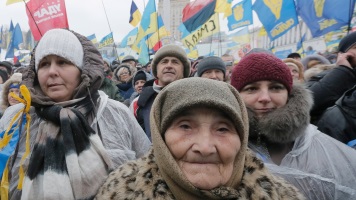 Earlier this year, tension rose in Ukraine as protestors called for a new government. President Viktor Yankovych, elected to office in 2010, was ultimately removed from power.
In November of 2013, Yanukovych refused to sign a trade agreement with the European Union, an organization favored amongst Ukrainian citizens. Instead, he sought a loan from Russia. This enraged those who wanted Ukraine to be considered its own European country, entirely independent of Russia. These angered citizens protested peacefully and called for elections and a new government. A couple of months later, however, the situation turned from peaceful to violent.
In mid-February, protestors and policemen had a violent dispute that left 80 dead and hundreds injured. Following this incident, Yanukovych lost the support of the nation's military. He thus fled to Keiv, Ukraine's capital, where he refused to give up his power. Russia offered to protect Yanukovych, and in his absence, Oleksandr Turchynov was named Ukraine's temporary president.
Ukrainian citizens were able to glimpse inside of the President's palace following Yanukovych's exit. For the first time, the public saw the beautiful palace's riches and opulence—symbols of inequality and the corruption of the government under Yanukovych.
In May, Petro Poroshenko was elected president of Ukraine. The situation is far from stabilized, however. Unfortunately, tension and unrest remain in this Eastern European nation.
[Sources: TIME for kids, FoxNews.com]