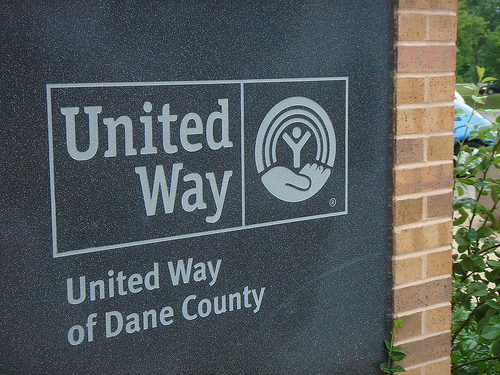 When I first walked into Simpson Street Free Press about six months ago, I couldn't believe it. There were young people of all ages, colors, and backgrounds working in a newsroom. And working really hard. This group of kids produces five publications, including the bilingual newspaper La Prensa. SSFP students also organize book clubs, do geography quizzes, and hold vocab contests. At first I was a little intimidated, but now I actually think it's fun.
My point is this: none of this would be possible without United Way of Dane County.
Obviously, United Way doesn't just help Simpson Street. In fact, United Way helps over 100 organizations across Dane County. And, they don't just support youth programs. From hunger to homelessness to basic medical care, United Way enables and empowers all sorts of organizations and people. The work done by our local United Way touches thousands of lives and helps all of us in one way or another.
Earlier this month, United Way of Dane County launched their 2015 annual campaign. This year's fundraising goal is the biggest in the history of United Way and aims to raise $19.3 million.
The 2015 campaign kicked off as part of a "Days of Caring" celebration. Days of Caring is the largest volunteer effort in Dane County, and it is organized by United Way. Chair of the 2015 campaign and TASC CEO Dan Rashke said, "Days of Caring is a terrific example of how much Dane County residents care about their fellow neighbors." He added, "United Way volunteers invest your dollars wisely so we, along with our partners, have the greatest impact possible."
With funds raised in this year's campaign, Rashke and Leslie Ann Howard, President and CEO of United Way of Dane County, hope to provide over 68,000 residents of Dane County with early childhood and housing support, job training, and employment opportunities. Ultimately, they plan to steer Dane County residents toward pathways out of poverty.
"With United Way, I am extremely excited for our ambitious campaign goal and the thousands of lives those resources will change in our community," Rashke said. These United Way efforts will continue through November. It's important that all of us support our local United Way and this year's campaign.
If you want to read about dangerous animals, ancient pyramids, or recent explorations of Pluto, read Simpson Street Free Press. And if you want to help your neighbors and thousands of other Dane County residents, donate to the United Way annual campaign. Join us in supporting United Way. You can find all the information here.
[Source: United Way of Dane County Press Release]