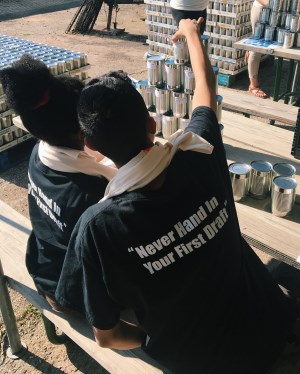 The Mallards Duck Pond at Warner Park came alive on Tuesday, August 22 to kick off the 2017 United Way campaign. About 900 volunteers from communities around Dane County gathered to launch a new "Season of Caring" initiative.
United Way CEO and President Renee Moe said, "focusing on poverty means addressing education, financial stability and health - the things that will make our economy stronger, neighborhoods safer and community more successful."
Moe also pointed out the significant need for focusing on these areas. "One in eight people live in poverty in Dane County, which is a startling number that very few people are aware of," she said.
CUNA Mutual Group and United Way of Dane County announced plans to help people in the areas of education, financial planning, and health. CUNA Mutual Group CEO and President Bob Trunzo reinforced these ideas.
Simpson Street Free Press students and editors attended the event and participated in its various activities. They enjoyed labeling cans of corn that would later be taken to Second Harvest food bank. Free press students also loved the event's free food and kid-friendly games.
The United Way annual campaign funds some of Dane County's most important non-profits. United Way support allows community-based organizations to respond to pressing community issues such as student achievement and early-childhood literacy.
At the Warner Park event, United Way partner agencies and volunteers helped with hands-on projects designed to raise awareness around such community needs.
The event was uplifting, fun, and meaningful. The whole park was filled with community pride. All of us here at Simpson Street Free Press hope our readers will join us in supporting the United Way campaign and help our community stay strong.
[Sources: Madison Commons; United Way of Dane County]