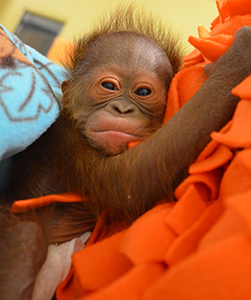 The Henry Vilas Zoo recently welcomed a new arrival --baby orangutan Keju. She is being introduced to the public now across multiple media forms.
Keju's ancestors are from Borneo and Sumatra. Her name means "cheese" in Malay, the primary language spoken in these places. Her caregivers named her that to let everyone know she's a true Wisconsinite and "cheese head."
Keju was born to parents Datu and Kawan, but shortly after her birth, Kawan stopped taking care of Keju. Kawan is undergoing training from zoo personnel to learn how to care for her children like orangutan mothers in the wild do.
Until Kawan is ready, the zoo personnel must nurture Keju. Caretakers wear specific vests with strips of fleece that Keju clings to as if she was hanging onto her mother's fur.
"We are so lucky to have a healthy mother and infant," said zoo director Ronda Schwetz. Neither Keju nor her parents will be on display until they have been reunited in their natural state.
[Source: madison.com]