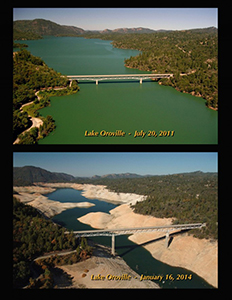 California and Nevada are facing droughts more severe and long-lasting than lasting any in the past 40 years. The recent lack of rain has led to wildfires, damaged animal habitats, new rules and fines.
The most affected area, 80 % of California is suffering from the drought. The states lakes are dry, lawns are brown, and farmers have had to leave their land unplanted, therefore threatening food supplies.
Governor Jerry Brown of California declared a state of emergency in January. Residents were warned that conditions could get worse if it does not rain during the winter of 2015. Farmers' wells could run dry and communities could even run out of drinking water.
Despite these warnings, some residents of California are not taking the drought or its potential consequences seriously. In May, water consumption rose one percent, according to the State Water Resources Control Board. Because of this, water regulators decided to fine residents up to $500 a day if they are seen wasting water repeatedly. Currently, these fines apply to water usage outside, watering lawns, washing cars, watering plants, and hosing sidewalks and driveways. First-time violations will receive with a small fine or warning instead of the $500 penalty.
If followed, control board regulations could be increased California's water supply to 3.5 million people in a single year.
"Outdoor water waste is unacceptable in a time of drought," said Felicia Marcus, head of the State Water Resources Control Board. "We don't know when it's going to rain again…this is a dramatic action, but these are dramatic times," she added.
Another state affected by this three-year drought is Nevada. Lake Mead, near Las Vegas, has sunk to its lowest level since the 1930s. The lake is 247.1 square miles and is supplied by the Colorado River. When the lake is full, it is 1,296 feet above sea level. Now, it measures only 1,082 feet above sea level, and the reservoir is only 39% full. Las Vegas's two million residents and 40 million tourists depend on the lake as a source for drinking water. If the lake drops seven more feet, Nevada and Arizona could see decreases in water supply.
The U.S. Bureau of Reclamation and their spokeswoman Rose Davis, projected that the drought was coming. "We are basically where we expected to be, given the dry winters in 2012 and 2013," said Rose Davis, spokeswoman for the bureau. However, Davis' agency also predicts that there will be a small increase in water supply by January of 2015.
Until this increase, adequate supplies of drinking water in the west will depend on nature and residents doing their part to conserve.
[Source: Time For Kids]