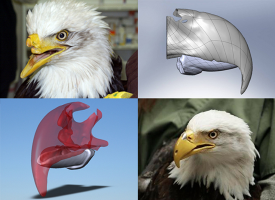 Thanks to the new technology of 3D printing, a bald eagle was recently able to recover from her traumatic accident.
Beauty, the eagle, was the victim of a hunter's shot. At the age of six, a bullet destroyed her upper beak. Following this incident, Beauty was unable to eat and clean herself. When she was brought to Birds of Prey Northwest in Idaho, she was thin and weak. Though Beauty was taken in and cared for by medic Jane Cantwell, Beauty could not lead a normal life without her beak. Cantwell reached out for help from industry experts, but was repeatedly told nothing could be done for Beauty, short of euthanasia.
When Cantwell met Nate Calvin, founder of the Kinetic Engineering Group in Boise, Idaho, however, the grim situation changed. Together, Cantwell and Calvin teamed up with engineers, wildlife experts, and a dentist. They did something never done before: they created the first 3D prosthetic beak.
Creating this beak was no simple process. First, they took an x-ray of Beauty's head. Using this image, Calvin designed a replica of a beak that would best fit Beauty by using Solidworks, software for 3D printing. Calvin then used a 3D printer to build the prosthetic. After filing down and adjusting this prosthetic—a process that took two hours—the procedure was complete.
Thanks to a dedicated team and technological developments, Beauty was finally able to lead a normal life.
[Source: 3dprinterworld.com]