What Do Bird Blinks Tell Us About Bird Brains?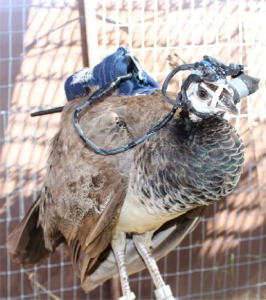 by Devika Pal, age 15
A recent study conducted by Dr. Jessica Yorzinski, a sensory ecologist at Texas A&M University, observed the blinking mechanisms of birds and how they obtain visual information from the environment.
In this study, cameras were mounted on the heads of ten great-tailed grackles with the lens' pointing back at their face. To support the cameras, the birds wore backpacks that contained a battery and transmitter. Flight footage from each bird was obtained and broken down into different stages of the flight for analysis, including standing on the ground, taking off, flying and landing. Dr. Yorzinski encouraged the birds to fly by chasing them around in a fenced off area.
Like many birds, the great-tailed grackle blinks sideways by using a semitransparent membrane that flashes across the eye. It was noticed that while they flew, the birds blinked more quickly compared to when they were on the ground. The birds also rarely blinked while landing. Upon landing, the birds blinked most frequently, perhaps to protect their eyes or simply to blink after a prolonged period of having them open.
"Maximizing the visual input they get during these critical stages of being in flight and landing makes a lot of sense," according to Yorzinski in an interview with the New York Times.
Yorzinski plans to continue her research in different environments, such as in forests. Others options would be to consider observing the birds during longer flights as well as observing different species.
A study from 1996 found that human pilots share some of the same blinking habits identified by Yorzinski in the birds. While not completely the same, the similarities draw into question how pilots, whether human or not, navigate the sky.
[Sources: New York Times; Texas A&M University]