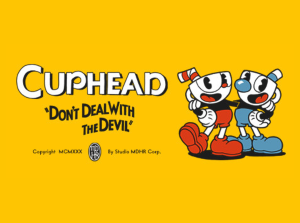 Hey, this is Amare and I'm gonna talk about Cuphead! Cuphead is an old school video game. It's difficult, but you'll get the hang of it as you go.
The game was influenced by 1930's Disney cartoons and Fleischer Studios. The game came out in 2014. Cuphead has similaraties to Mickey Mouse and Betty Boop. It follows the story of an adorable cup that makes a deal with the devil. Cuphead has to repay a debt, and complete levels, so he can save his soul.
The creators were Chad and Jared Moldenhauer. Jake Clark, the animator, created the hand drawn art that is a huge part of the Run-and-Gun genre that Cuphead belongs to.
Cuphead teaches players how to overcome each obstacle. To make it less stressful, think positively, and you'll complete the levels!
Cuphead makes you want to keep playing. When you keep playing, you'll overcome the difficulties.
[Sources: polygon.com; cupheadgame.com]