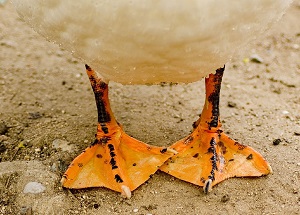 A surprising use of a 3D printer recently saved the life of one lucky duck named Phillip.
Because his feet had been frozen in harsh outdoor conditions, Phillip couldn't run, swim, or fit in with the other ducks. When Vicki Rabe-Harrison, a caring citizen, saw Phillip with his legs shriveled up, she decided to take him under her wing. After watching a video online about a 3D printer that belonged to a middle school teacher named Mr. Jischke, Rabe-Harrison knew what to do. She immediately emailed Jischke to see if she could use the 3D printer to construct a new pair of feet for Phillip.
When Jischke got the email, he didn't know whether or not it was a prank. However, Jischke went with his gut and decided to call Rabe-Harrison. He did so at the exact time, because Rabe-Harrison was preparing to have Phillip put down to relieve him from his misery. Luckily, Jischke called just in time to inform Rabe-Harrison that he had begun making prosthetic feet for Phillip. Rabe-Harrison and Jischke both shed tears of joy. They spent the next six weeks trying to make Phillip's perfect feet.
Rabe-Harrison and Jischke's hard work has certainly paid off. Phillip has taken to his new feet. They hope that in the near future, Phillip will be able to run and swim with other ducks. He is now living in an animal sanctuary, where he is safe.
Who would have known that 3D printers could have so many uses, including helping a duck in need?
[Source: ABC News]