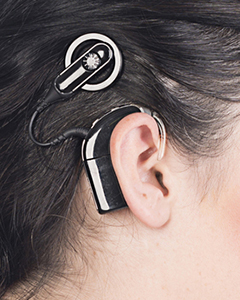 Being able to balance is crucial. But like many day-to-day functions, people do not think about balance all the time. It is not until they start to lose this ability that they realize how important it is. Around 30,000 people in America suffer from dizziness each day because of damage to the organs that manage balance. To combat this, scientists are developing an ear implant that could potentially cure dizziness.
Perhaps surprisingly, the main organs required for stability are in the ear. Specifically, there are two components: a snail-shaped cochlea and the vestibular labyrinth. The cochlea is responsible for hearing, and the vestibular labyrinth is a three-branched organ that maintains balance by keeping track of our body and head movement. As the head moves, liquid in the vestibular labyrinth is pushed against the cupula, a membrane that is covered with tiny hair cells. These cells are connected to nerves that send out electrical information to the brain, which betters our vision by aligning our eyes with our head movements. If our eyes move at a different speed than our head or vice-versa, then we start to lose our balance. This can result in the dizziness that some people experience often.
To remedy this problem, scientist and doctor Della Santina and his team invented a new ear implant that might be able to cure dizziness for humans. The device aims to replace our body reflexes with an electrical stimulation of the nerves that transmit signals from the vestibular labyrinth to the brain. Unfortunately, the surgical process that implants this device also destroys the vestibular labyrinth.
Thus far, scientists have tested the device on chinchillas by treating them with gentamicin, a that chemical that affects the vestibular labyrinth's ability to send signals. After inserting the device in one ear, the chinchillas were able to balance normally again. Although it worked very well on these animals, researchers still need to perform more tests so that they can conclude that it is, in fact, safe for humans to use too.
This ear implant could possibly save many lives. Think about it: what if someone were suffering from dizziness and while crossing a dangerous street or driving a car? They might get badly hurt or even injure other people. Clearly, this device is necessary to our growing world today.
[Source: Science Illustrated]