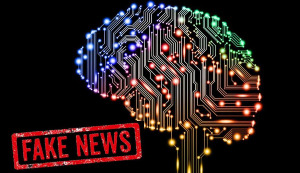 Fake news runs rampant on the internet. Generating most of this fake content, bots prey on users scrolling for the next story worth retweeting or otherwise sharing. Fake news reaches an audience 35 percent greater than truthful stories do, according to researchers at the Massachusetts Institute of Technology. Luckily, many scientists and scholars are working to defeat internet bots and help users detect false stories.
Only in early development, artificial intelligence (AI) is changing the game for journalists and the dissemination of news. AI can detect false stories by scanning their use of statistics and syntax. Recently, Facebook—one of biggest platforms responsible for the spread of fake news—announced its new partnership with The Associated Press to identify false information and prevent it from reaching users. Google also announced plans for a "misinformation detector" browser extension that would immediately notify users upon detection of a suspect link.
The Israeli startup company AdVerif.ai has begun to develop a specific application to help users detect false content. The company released an AI-based algorithm that "can identify fraudulent stories with an accuracy approaching 90 percent," according to an NBC News report.
"Because a lot of this content is recycled and repeated in different ways, we believe we can use AI to pinpoint trends which detect it as being fake," founder of AdVerif.ai Or Levi said.
Aiming to avoid association with false information regarding their businesses, companies like Nike and Adidas have expressed interest in the application, which detects fraudulent stories based on their use of adverbs, adjectives, slang, simple syntax, and few commas and quotations. AdVerif.ai hopes to develop the algorithm to use natural language processing to verify statements made in articles.
The MIT researchers considered a number of these traits in a study focused on Twitter, the results of which indicate that users spread fake news "farther, faster, deeper, and more broadly than the truth in all categories of information." Evaluating 126,000 Tweets from 2006-2017 (excluding those immediately identified as bot-generated), they calculated that the average false story takes 10 hours to reach 1,500 Twitter users, whereas it takes 60 hours for a truthful story to reach the same audience.
Researchers credit this disparate spread of information to human psychology.
"[F]alse news is more novel and people are more likely to share novel information," said Sinan Aral, David Austin Professor of Management.
Aral's colleague Soroush Vosoughi added, "people respond to false news more with surprise and disgust whereas true stories produced replies more generally characterized by sadness, anticipation, and trust."
So while studies like MIT's indicate that bots generate fake news, it's humans that spread them. Thus, one of the most effective ways to prevent mass misinformation it is click, believe, and share with a critical eye.
"At the end of the day, the onus will probably always be on humans to use their own intuition to decide whether something is true or not," Levi said.
[Sources: MIT News; Associated Press; Washington Post; NBC News]