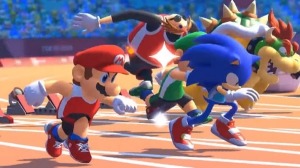 Hello, this is Amare and I'm going to talk about a new game that will come out at the summer Olympics, called Mario and Sonic at the Olympic Games: Tokyo 2020. This game revolves around sports combined with retro game characters. The reason why Nintendo and sega make games about the Olympics is because many people watch the Olympics. The game will be made to increase the audience's interest for the Olympics.
Nintendo and Sega have made successful Olympic Games in the past, and now they're going to do it again. You can play the Olympic Games anywhere and anytime on console, handheld, mobile, online, and in the arcade.
There will be many sporting options in this Mario and Sonic. It will have classic sports like boxing, swimming, soccer, and gymnastics, with an addition of new sports such as karate, skateboarding, sports climbing, and surfing. In November 2019, Nintendo and Sega will release the upcoming game.
[Sources: Gamespot.com; Polygon.com]