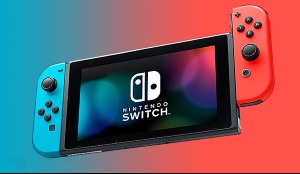 Hey, guys. This is Amare and I'm gonna talk about the difference between Nintendo Switch and Nintendo Switch Lite. The Nintendo Switch Lite releases on September 20th. It costs $200, but the original Nintendo Switch costs $300. Since the Nintendo Switch Lite costs less, why would you ever buy the original?
Even though there are differences between the Nintendo Switch and the Nintendo Switch Lite, they are very similar consoles. The key difference is that the Nintendo Switch has detachable controllers and the Switch Lite has built-in controllers that can't be detached. Also, the Switch can be connected to a TV and has a kickstand, but the Switch Lite doesn't have these features.
To help increase portability, the Nintendo Switch Lite has longer battery life. The Switch's battery life runs just over six hours, while the Switch Lite battery life will run up to seven hours. The Switch Lite is also smaller. The size of the Switch is 4 in x 9.4 in x 0.55 in, but the size of the Switch Lite is 3.6 in x 8.2 in x 0.55 in.
Can the Switch Lite play the same games as the original switch? Yes, the Nintendo Switch Lite can play all the same Nintendo Switch games from before. So which Switch should you buy? If you want something that connects to a TV and is easy to carry, you should get the Nintendo Switch, but if you want something even more portable and cheaper, then you should get the Nintendo Switch Lite.
[Sources: Nintendo.com; CNET.com]