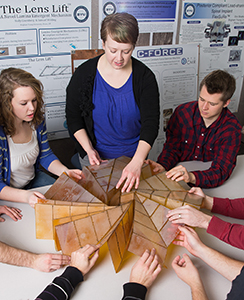 In order to save money, scientists at NASA (National Aeronautics and Space Administration) are currently working to compress the size of solar panels, which are typically bulky and hard to transport. To do so, they have turned to a unique solution: origami.
The idea to use origami, the Japanese art of folding paper into small decorative shapes and figures, came from the boyhood passion of mechanical engineer Brian Trease, who works at NASA's Jet Propulsion Laboratory. Trease, faculty and students at Brigham Young University, and origami guru Robert Lang are now working together on a project to launch the origami-inspired solar panels, which compress to a mere 8.9 feet.
To use these new solar panels, scientists use a technique called "hannaflex." Due to centrifugal force, this technique causes the solar panels to expand from their compacted positions. In essence, the origami-inspired panels look like a flower when compact and, when expanded, blossom into a flat, circular form, approximately 82 feet in diameter.
However, getting the solar panels to expand fully is not easy. Additionally, the solar panels pose the threat of breaking, due to the amount of times they are folded and unfolded. "How do you fold metals? There is also a matter of how many times a material can be folded and unfolded before it wears out," Trease said of these challenges.
Despite these problems, NASA is taking the innovative origami approach very seriously. "The public has to know it's more than just paper folding, it's more than just this children's art or something you do in school," Trease said. "There's a lot of artistic expertise in understanding the folds, but it's heavily backed up by math and engineering," he added.
[Source: Wired]