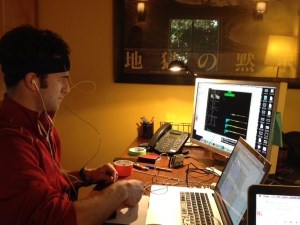 Not Impossible Labs, a new high technology team in Venice, California, has invented the Brainwriter. The Brainwriter is a machine that will eventually allow people with paralysis to communicate through a laptop, using only their minds. Brainwriter has the ability to focus on the part of the brain that produces brain waves. These create patterns that can be monitored by an electroencephalogram, also known as a EEG. The EEG pattern allows the Brainwriter to process information. The Brainwriter is programmed to process and recognize the EEG patterns so it can function like the click of a mouse.
Tony Quan, a Los Angeles graffiti artist, inspired the Brainwriter. Quan was diagnosed with amyotrophic lateral sclerosis, a degenerative muscle disease that makes it impossible for him to control his muscles. In the beginning, Mike Ebeling, of Not Impossible Labs and his crew fashioned a device from plastic eyeglasses, a coat hanger and a PlayStation 3 camera. For this version, Tony blinked to activate a "writing mode" and then selected a tool. When Tony's condition worsened to the point where he could no longer control his blinking, the idea for the Brainwriter was born.
The Brainwriter will soon be available to improve communication for patients all around the world like Tony Quan, who are unable to use their muscles. Ebeling predicts that someday EEG sensors will not only help people with paralysis, but will also improve communication for everybody with disabilities. He imagines that baseball caps studded with EEG sensors will be sold at the mall. Such a cap would allow someone to perform simple actions just by thinking, like making a lunch reservation. Ebeling believes that anything that helps make communication easier is positive for everyone.
[Source: Smithsonian]