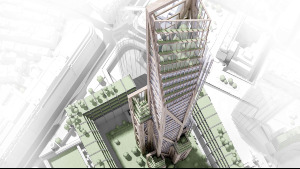 Many people in the engineering industries consider wood a weak material and do not perceive it as a viable option for a skyscraper. Architects at Perkins + Will and engineers at Thornton Tomasetti are working together to challenge this belief, however. Partnering with Cambridge University, the team is currently exploring the possibility of multi-story wood buildings.
Wood lost popularity as a building material in the late 19th centuary after a series of massive fires destroyed cities around the world. But with new technology, today's scientists have improved wood to make it fire resistant and strong enough to rival steel. This enhanced strength comes from a new technique that glues wood together into a layered composite. Wood is also an attractive material because of its ability to trap carbon dioxide; this makes it environmentally friendly. This newly develpoed wood is also strong and light, which allows builders to make towers out of it reaching heights not previously contemplated for wood. These benefits make the "new" wood a potential skyscraper material.
Many tall wooden buildings have already been built around the world or are at least in the works. For example, a European firm recently built the first all-wood soccer stadium. Also, the world's tallest wooden building is an 18-story dormitory in Vancouver. Engineers have plans in place to construct more wooden buildings including the River Beech Tower in Chicago, which will be 80 stories tall and composed entirely of wood and glass. This may seem ambitious, but it is not the only building of this magnitude under consideration: there's also the Oakwood Tower in London and T3 in Minneapolis. Architects and engineers are working together to make these structural visions a reality.
Many architects believe that 'the age of timber', as demonstrated by the innovative structures popping up in major cities, is upon us. Despite historical drawbacks, wood promises to be a bold concept for buildings to come.
[Source: wired.com]