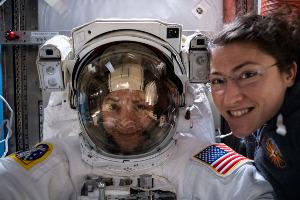 A historical moment was recognized recently when two NASA astronauts stepped out of the International Space Station and went on the first ever all-women spacewalk.
Women have gone on 42 different spacewalks in the past, but always with their male colleagues. 35 years after Kathryn Sullivan ventured into space as the first American women to go on a spacewalk, Christina Koch and Dr. Jessica Meir have taken this achievement one step further on their own.
Koch and Meir were part of NASA's 2013 class of astronaut trainees which consisted of four women and four men. Now, they are two of twelve women in NASA's 38 total astronauts.
The spacewalk was unexpected, unlike the first official all-women spacewalk that was planned for March of 2019. The plan was for Koch and Anne McClain, another NASA astronaut, to go together. However, NASA's lack of correctly sized spacesuits for the women prompted the walk to be postponed to an undetermined later date.
Koch and Meir did not consider their seven-hour walk to be an amazing feat—they just needed to replace faulty batteries in their space station. Meir said herself, "This is really just us doing our jobs."
The rest of the world, however, was enraptured by the event. The all-women spacewalk was seen as another step towards bringing women and girls into STEM fields. Meir called the day, "an honor," adding that "It symbolizes exploration by all that dare to dream and work hard to achieve that dream."
While NASA prepares to send the first woman and next man to the moon then to Mars by 2024, Koch is set to break the record for a woman's longest space flight. Another record broken, another feat braved, and another star captured by the prowess of the women of the past and the present as more look towards the future.
[Sources: The New York Times; Science.com]