Ganymede: A Frozen World of Wonder
by Jazmin Becerril Gonzalez, age 13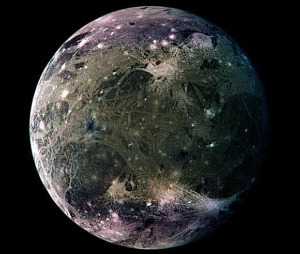 You may not be able to walk on it, but scientists believe that sometime in the future, it may be possible for life of some kind to exist on one of Jupiter's moons, Ganymede, which also happens to be the largest moon in the solar system.
Satellite images from NASA's Galileo and Voyager probes show that Ganymede is icy and cratered with both light and dark patches across the surface. The dark regions cover 40% of Ganymede and could be at least three billion years old. The light regions are believed to be younger and contain ridges that are up to 2,000 feet high expanding across the surface. There are multiple hypotheses about how the darker and lighter regions appeared on the moon; most of them suggest that it had to come from some movement and freezing of water. When it comes to the composition of Ganymede, probes from the Galileo mission detected that it has a magnetic field, suggesting that Ganymede has metal somewhere in its core. Specifically, Ganymede could have an iron core that is surrounded by layers of ice and rock.
Although Ganymede has potential for life if it warms up, it lacks an atmosphere and remains cold even with direct sunlight. Compared to the Earth, Ganymede receives only four percent as much of the Sun's brightness. This is why space probes that go to this moon, such as Galileo and Voyager, need nuclear generators for energy rather than solar panels.
In the novel 2061: Odyssey Three, author Arthur C. Clarke writes about what life would possibly look like on Ganymede. He describes a world where aliens turn Jupiter into a sun and Jupiter's moons become a mini solar system. Humans from Earth create homes on Ganymede and explore Jupiter's other moons. As the story continues, Ganymede slowly heats up from Jupiter's sun rays and the ice that was originally there, melts and creates oceans. Over time, the moon starts to become more habitable and biologists find a way to create oxygen on this moon by using oxygen-generating bacteria.
Unfortunately, this is just a work of fiction. Although we can't live on Ganymede due to its extreme conditions, the study of this moon continues to fuel the wonder of what life for humans could potentially look like on other planets.
[Source: Secrets of the Universe]