Twenty Years of Scientific Discovery in the International Space Station
by Elim Eyobed, age 9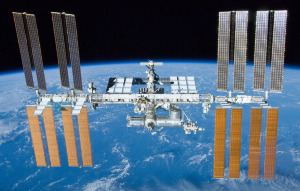 Did you know that a space station is similar to a house? It has showers, kitchens, and living areas. But it also has a control center where astronauts , or cosmonauts as they're known in Russia, can work.
The International Space Station (ISS) is the largest space station that took a team effort to build. Sixteen countries contributed to the effort. Specifically, it took the cooperation of the U.S., Russia, Japan, Canada, Brazil, and 11 European countries. The station was built on Earth and sent piece by piece into space and put together by the shuttle's robot arms.
After a long period of training, the first three astronauts arrived on the station in November 2000 and lived there for four months. Astronauts, supplies and equipment were taken up to the ISS station by a U.S. shuttle.
Space stations are important because they help us continue learning about space and what it's like to live and survive in these remote locations.
[Sources: NASA; 100 Things You Should Know About Space]