NASA Plans To Bring Mars Rocks Back to Earth

Unmanned Rovers Will Leave for the Red Planet in 2018

by Helen Zhang, age 12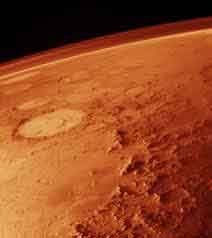 Since the first Viking missions to Mars in 1976, the mysterious Red Planet has been explored many times. Initially, the possibility of water on Mars intrigued scientists. Now that researchers have confirmed the existence of water, scientists are pushing to find out if life also, exists there. This curiosity has compelled NASA to plan an elaborate mission to investigate the rock and soil of Mars.
This new and unmanned mission will take place before NASA's manned mission to Mars. In spite of recent changes proposed for America's space program, NASA still plans a manned Mars mission sometime in the mid-2030's.
NASA is working with European scientists on a complex plan to send unmanned rovers to Mars in 2018. Two rover crafts will make the trip: one to drill into the planet's surface, and another to collect surface samples. A few years later, a surface craft and an orbiting ship will pick up the rovers. The surface craft will collect soil samples and launch them up to the orbiting ship. Then all of the spacecrafts will make the 50 million mile return trip to Earth.
Back on Earth, the acquired samples will be investigated for organic compounds and other chemicals that might reveal signs of life. If all goes according to plan, the samples obtained could be analyzed sometime around the mid-2020's.
Due to the project's high costs, around 10 billion dollars, NASA has teamed up with their European counterpart, the ESA, to develop the mission.

[Sources: Popular Science; Associated Press]