Unearthing the Moon's Many Myths and Mysteries
Nature's Brightest Light Leaves Questions to be Answered
by Jaleah Price, age 14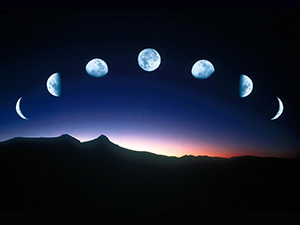 A little over four and a half billion years ago, a solid mass called the Moon was formed. The Moon has given rise to many myths, legends, and mysteries. Some, for example, believe that it influences our lives and destinies. Others once thought that the Moon may even be a god or goddess.
One mystery surrounding the Moon is how it was formed. Two distinct theories exist. The first, "The Collison Theory," suggests that the Moon was created when a large object struck the Earth, breaking off a large piece of it. Collecting space debris around it, this chunk of Earth formed an orbiting cloud and solidified as a mass.
Others support "The Capture Theory." This theory indicates that the Moon was always a separate mass from the Earth. When passing by the Earth closely, it was caught and pulled in by the Earth's gravitational pull. However, calculations points more so in favor of The Collison Theory.
A bleak place with no atmosphere, the Moon has an extreme environment. Surface temperatures on the Moon can change drastically. During the daytime, temperatures can reach 260 degrees Fahrenheit, while at night they can fall to a low of negative 279 degrees Fahrenheit. Dark regions called maria, craters, and mountainous areas cover the Moon's surface. Life on the Moon would be very unlikely because of this harsh environment.
The Moon glows because it reflects light from the Sun. Every 27.3 days, the Moon orbits the Earth: how much of the Moon we can see depends on what stage of the orbit it is in. Depending on how the light shines on one particular part of the Moon, the shape that we see from Earth appears as a crescent moon (waxing), a half moon (first quarter), a full moon (appears round), a half moon (last quarter), or a crescent moon (waning). The Moon continues to have the same side facing Earth while it completes each orbit.
Sometimes during its orbit, the Moon passes directly between the Earth and Sun. When this happens, a solar eclipse occurs. The Earth becomes dark for a few moments as the Moon blots out the Sun's bright light.
Though researches have discovered a significant amount of information about the Moon, there remains many questions to be answered.
[Source: The Kingfisher Children's Encyclopedia]